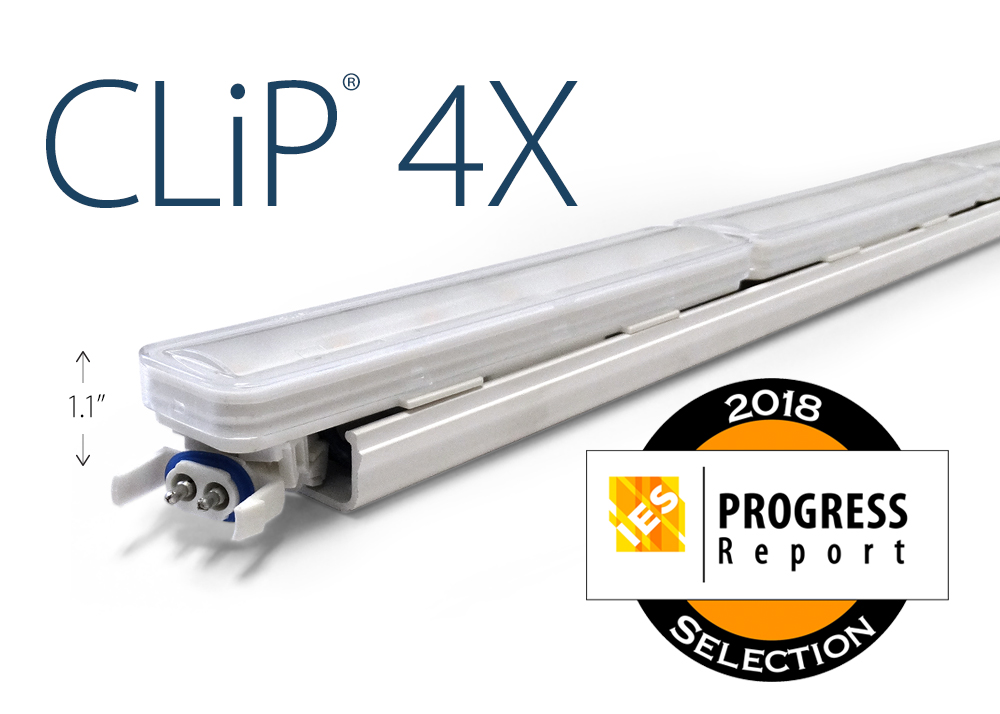 CLiP 4X IP67 Compact Linear LED Receives 2018 IES Progress Report Designation
August 12, 2018
Tempo Industries, LLC ("Tempo"), an award-winning manufacturer of configurable linear LED lighting systems, is proud to announce that its newest linear solution, the CLiP® 4X, was deemed by the 2018 Illuminating Engineering Society (IES) Progress Report Committee to be a progressive product that is a "unique and significant advancement to the art and science of lighting".
The CLiP 4X is the most compact and rugged IP67 rated linear LED lighting system in the market. It delivers over 550 lumens/foot and is ideal for outdoor applications that require a discreet but sturdy wet location luminaire. It is both water and dust resistant and capable of withstanding the harshest exterior environments. Installation is simplified with the use of either a rigid or ball-and-joint mounting track. Constructed of composite non-metal materials, this corrosion resistant UV-protected system comes complete with a 5-year warranty. The CliP 4X is also a long term sustainable product that leverages Tempo's proprietary micro-maintainable technology allowing for tool-less in-field maintenance.
"This product is very small and incredibly light which allows for installations in outdoor spaces that would otherwise be extremely difficult to do using luminaires that are currently available in the market today", said Ian Shaw, VP of Architectural Sales for Tempo. "It's also uniquely designed using Tempo's proprietary Configurable Lighting Platform (CLiP) technology which delivers on the promise of a linear system that can be configured in a variety of ways to address multiple application requirements," added Shaw.
"We believe that the CLiP 4X is an innovative and unique product that will meet the needs of many lighting designers and specifiers in the architectural lighting community and we are thrilled that the IES Progress Report Committee acknowledges this advanced product design," stated Robbie Das, COO at Tempo.
About Tempo
Tempo designs, develops and manufactures award-winning configurable linear LED lighting solutions for architectural and theatre applications. Its broad portfolio of specification-grade lighting products provides architects, lighting designers, engineers and owners the ability to configure lighting solutions to meet the most challenging project and budget requirements. Tempo is a pioneer in the solid-state LED lighting industry and the leading manufacturer of safety lighting systems for the theater market. Founded in 1986, the company manufactures their innovative products in Irvine, California which proudly bears "MADE IN THE USA". To learn more about Tempo, visit www.tempollc.com.