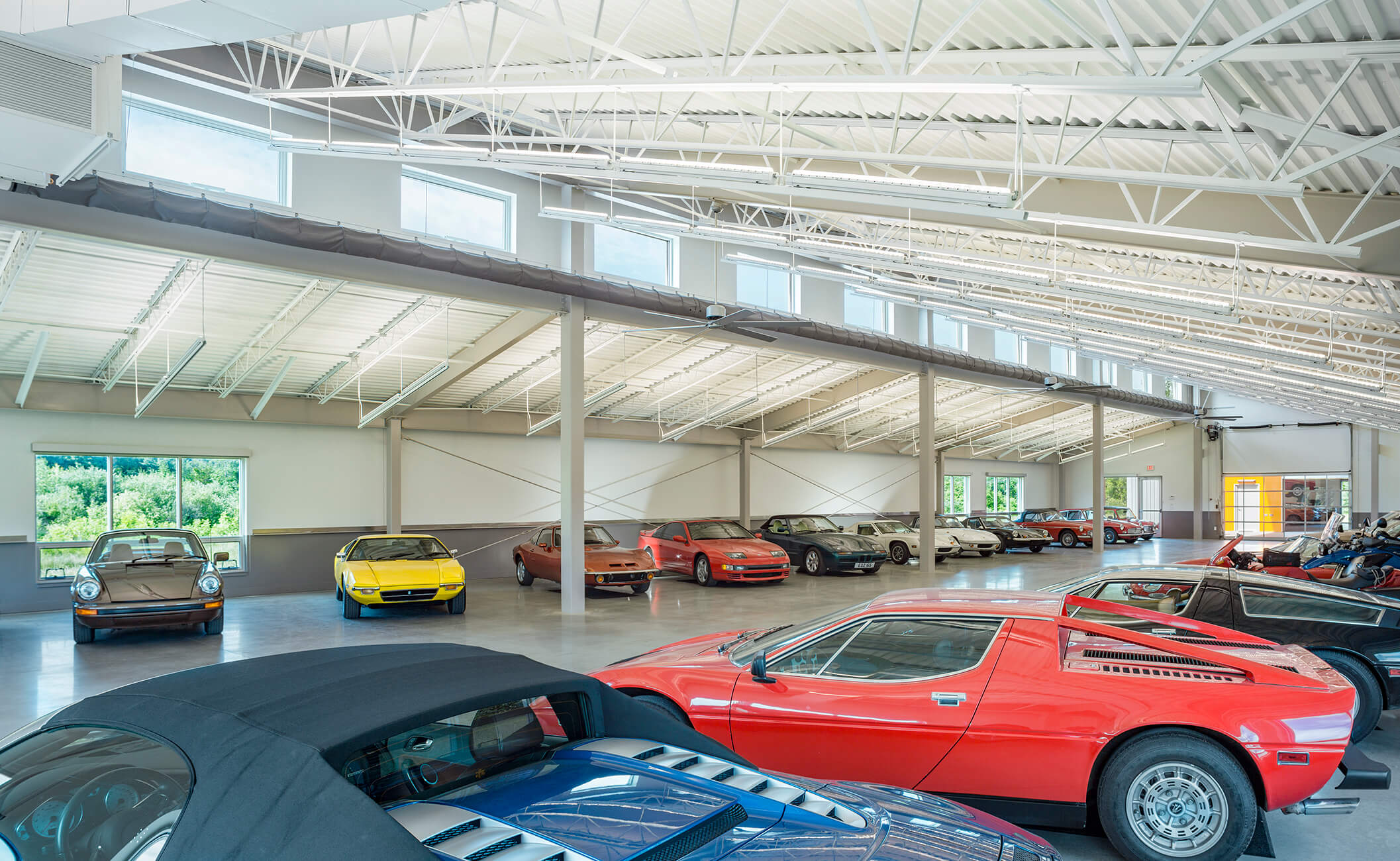 Project Focus: Private Garage | Vermont
December 07, 2016
Smith Buckley Architects collaborated with Jim Stockman of J&M Lighting Design to create a stunning private garage to house a classic car collection. Mr. Stockman selected Tempo's C7R Industrial linear luminaires to light two primary zones of the garage connected via a breezeway, the storage area and the service area. Per Mr. Stockman, "While there were many objectives, I ultimately wanted to create a luminous jewel-box such that when you walk across the fields to the garage, you see an emanating glow, but no direct source of light."
The main storage wing of the garage is a cathedral for cars designed to bathe the vehicles in glare free, shadow free light. This effect is in contrast to the showcase breezeway where a high intensity direct source makes the vehicles sparkle and gleam. The uniform light in the storage wing was achieved from a combination of clerestory windows and indirectly installed C7R LED luminaires. The inverted C7R fixtures illuminate the ceiling creating a single luminous plane that reflects light uniformly into the garage. Close collaboration with the design team ensured an effective use of indirect lighting, such as selecting a white matte ceiling finish with a 70% light reflectance value to diffuse LED images, yet reflect the majority of light back into the space. The white luminaires were suspended four feet, parallel to the sloped trusses, blending so effectively that they virtually disappear.
For the service bay, C7R luminaires directly illuminate the space to achieve a higher vertical and horizontal illuminance for this more task intensive space. Additionally, a single run of indirect C7R luminaires suspended along the length of the bay illuminates the ceiling to complement the daylighting.
The end result is a striking, yet highly energy efficient jewel-box, achieving an average of 0.5W/ft2 power density for the two key garage zones. To see more project images, please see the Case Study or Gallery.