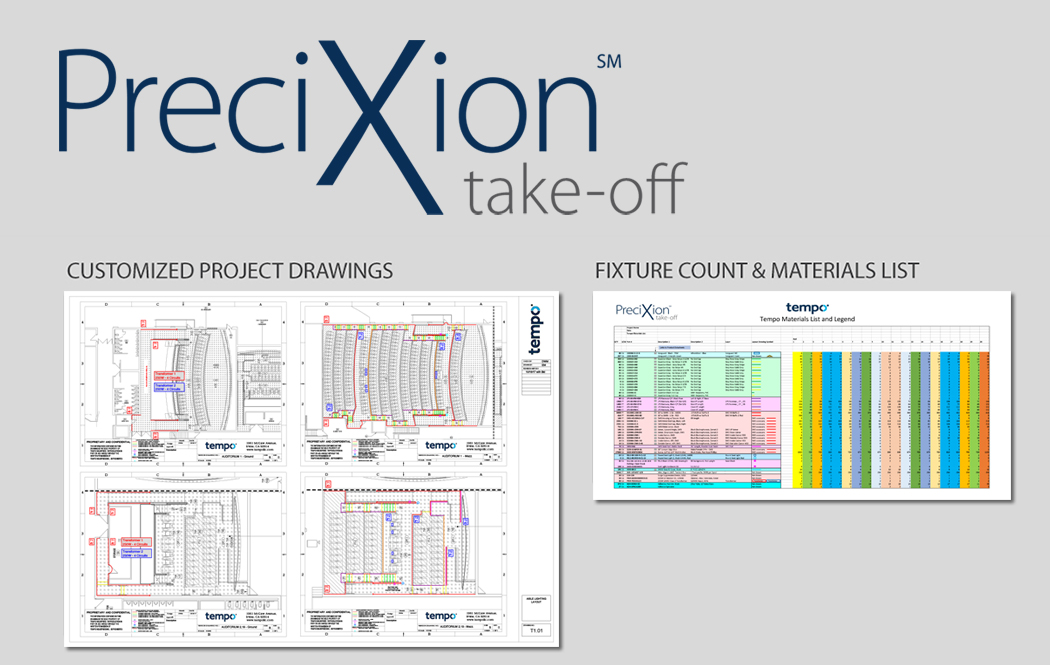 Tempo Announces the Release of PreciXion Take-Off Service
October 17, 2017
The Latest Innovation by Tempo is Designed to Streamline Quotation and Installation Process
IRVINE, CA- October 17, 2017 – Tempo Industries, LLC ("Tempo"), an award-winning manufacturer of configurable linear LED lighting for the architectural, theatre and industrial markets, is pleased to announce PreciXionSM Take-Off service. This value-added service allows Tempo's Project Design Estimators to quickly overlay Tempo linear fixtures onto any CAD-based floor plan and provide customers with a precise lighting plan along with corresponding product schedule for their large-scale commercial projects.
Tempo's PreciXion Take-Off service provides lighting designers with a complete set of customized project drawings along with a fixture count and materials list. These professional planning documents expedite purchase approvals and modifications during the design and overall project life cycle.
"Tempo developed the PreciXion Take-Off service because we wanted to provide the design community with a more accurate way to visualize and assess Tempo product specifications on large-scale commercial projects," said Ray Letasi, executive VP of sales and marketing at Tempo. "Now, with this automated service customers can more efficiently review, modify and share project plans with their various teams and streamline the price quoting, ordering and installation process on complex projects."
"It has always been our mission to innovate and pioneer the commercial lighting market with award-winning products like pr1meFX and value added services, like PreciXion Take-Off," stated Terrence Walsh, CEO & president at Tempo. "This turnkey service is yet another example of our commitment to supporting our customers with best-in-class service and support."
About Tempo
Tempo designs, develops and manufactures award-winning configurable LED linear lighting solutions. Its broad portfolio of specification-grade lighting products provides architects, lighting designers, engineers and owners the ability to customize lighting solutions to meet the most challenging project and budget requirements. Tempo is a pioneer and leader in the solid-state LED lighting industry and the leading manufacturer of safety lighting systems for the theater market. Founded in 1986, the company manufactures their innovative products in Irvine, California. For more information, visit www.tempollc.com or the company's Facebook page.